You've defined your ideal customer profile, so it's now time to think about what you are going to take to these ICPs and where you are going to find high concentrations of them.
Let's start by defining what a Go-To-Market strategy is.
A go-to-market (GTM) strategy is the way a business takes a product to market. It is a plan outlining the target audience, marketing plan, and sales strategy. A great GTM maps out a market problem and offers a market solution.
Why is a GTM strategy important?
A defined GTM strategy gives everyone in the sales and marketing teams a plan to work from. It means that everyone in the sales team will be selling strategically and importantly in the correct way.
How often are salespeople hired and asked to go sell a product or service without an inkling of a go-to-market strategy? All too often.
Think about how ridiculous this is. Management want the new sale recruit to start hitting target as quickly as possible, but the recruit must figure out how to make it happen themselves.
Unless the salesperson is a complete self-starter and sales pro, he or she is going to find it hard to hit target in the timeframe management is expecting.
People need guidelines to work to and salespeople are no exception. Importantly product training is not a go-to-market strategy.
Follow these 3 steps to put your Go-To-Market strategy in place.
Step A: Create a value matrix built around pain points
The best way to do this is to highlight the pain point of your target persona.
Everyone is looking to solve their pain points. Even if they haven't yet articulated them. So identify them for your ICP.
When we sell CRM and sales efficiencies baked into CRM systems this is part of the value matrix we use:
| | | |
| --- | --- | --- |
| User Pain Point | User Product Value | User Message |
| Wasting hours a day on admin tasksMissing targetsManager on their backs about CRM updates | Saves sales reps hours every dayGives them more time to sell and hit targetCRM that updates with minimal manual effort | Stop wasting selling time tracking and reporting on your activities |
| Decision Maker Pain Point | Decision Maker Product Value | Decision Maker Message |
| Lack of salespeople activitySlow or flat revenue growth | Increase team productivity as less time spent on repetitive tasksIncrease revenue as salespeople spend more time selling | Boost productivity and revenue as salespeople focus on the right activities |
Once you've identified your value matrix, start pushing this messaging out on your advertising channels and through your sales team.
Work with your marketing team to see which messaging is getting the highest click through.
Your marketing department should be able to tell you if you have high clicks in certain industries and then dive deeper into company size, geography and job function.
Using this data will help you direct your sales team's efforts.
We'll talk about working with your marketing team in the next section.
Step B: Create a Buyer's Journey Map
There are a number of people involved in the stages of making a purchase.
These stakeholders come from a wide range of roles, functions, and geographies.
Selling effectively today needs a GTM strategy that takes into account these 6.8 people. We call this the buying centre. There are roughly seven broad roles in the buying centre.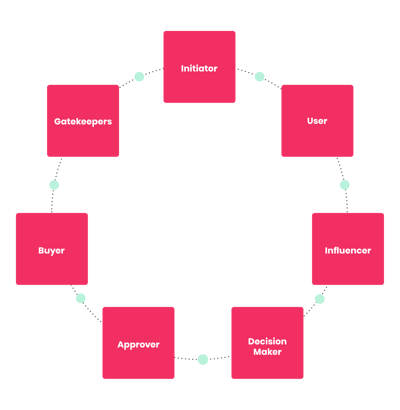 Understanding these people and what each needs during the process helps create the right content and strategies you'll need to make the sale.
Again, when we are selling CRM systems and sales efficiencies, this is what our own buyer's centre looks like:
Initiator – Salesperson/Sales manager
User – Salesperson
Influencer – Sales operations
Decision Maker – Sales director/manager
Approver – Managing director/CEO
Buyer – CFO
Gatekeeper – IT admin
Step C: Follow the Buyer's Journey Map
Now that you understand your value matrix and you have created your buyer's journey map, follow the map. This means you need to delve deeply into how a potential customer will journey from not being aware of your company at all, to becoming a customer.
To do this we look at the buyer's journey which largely follows this process:
Firstly, they realise they have a problem and actively or passively seek out solutions.
Then the buyer shortlists potential solutions by online and referral-based research.
The shortlist is whittled down to two or three solution providers, and then a purchase decision is made.
From the business's perspective, the buyer's journey is a funnel with three distinct stages. At each of the stages engagement is driven by different tools.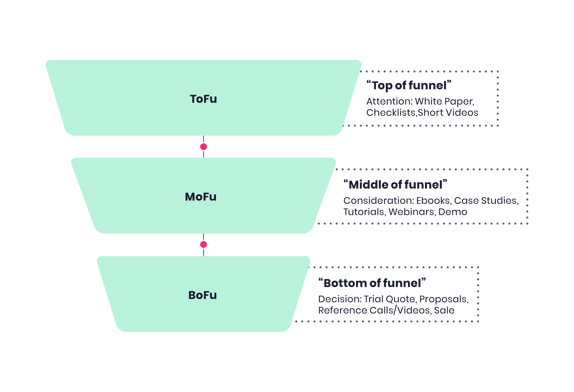 ToFu: Top of the funnel – Attention: White Paper, Checklists, Short Videos
Generally, the top of the funnel is driven by articles, videos, checklists and tool downloads, which all lead to extensive pieces of content containing videos and testimonials to get attention.
A lead lands here by clicking an ad on social media, a social media post, or a well-ranked search engine result.
This process is driven largely by the marketing team.
MoFu: Middle of the funnel – Consideration: Ebooks, Case Studies, Tutorials, Webinars, Demo
The middle of the funnel is driven by eBooks, case studies, live chat and demos to answer key questions lead might have.
The role of sharing this material with prospects is split between both the sales and marketing teams.
BoFu: Bottom of the funnel – Decision: Trial Quote, Proposals, Reference Calls/Videos, Sale
The bottom of the funnel is driven by salespeople and product specialists in one to one product walk-throughs, solution scoping and pricing negotiations to close the sale.
This process is driven by the sales team.
It is very important to know where your prospect is in the buyer's journey and feed them the right information at the right time. Doing this speeds up the process and moves it closer to closing.
Sharing the wrong information at the wrong time can unsettle a prospect, confuse them and make them nervous to move the project forward.
At this point, you may have noticed we are starting to talk about the marketing team. We know for many sales teams, marketing is often not usually trusted to deliver help in the sales process.
That being said, read on. We see the role of marketing in the modern sales strategy is critical.
In the next section, we explain why, and how the two teams can work well together.